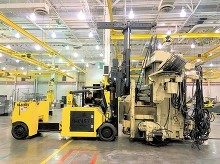 Warehousing services in Naples FL are not just for businesses with extra inventory. There are times when home and business owners require services for either the long or short-term. Moving furniture out of the house for a renovation, storing new office equipment while the old equipment is taken away, or needing storage for a week or two during a move is no problem.
Storage companies often require a contract or at the least a three-month commitment. Warehousing can be arranged for a week or two, a few days, or as long as needed. Services also include pad or shrink wrapping for the protection of the items while being stored.
Transporting Items
New model trucks are available to gather belongings and bring them to the warehouse location. People with company trucks or pickups can bring items to the location themselves. Receiving services are also offered, so items can go from a store or supplier directly into the warehouse. The goal is to make warehousing services in Naples FL as stress-free as possible for customers.
Cost
Rates are affordable for any budget because they are prorated for the days warehousing is needed. Customers will not be expected to pay for an entire month when items will only be in the facility for a couple of weeks. Free quotes are available, so there are no hidden surprises when removing items. Owners will know exactly what the total cost is before they decide to use warehousing services. Those in need of services can call the company or go online to get more information.
Eliminate Sudden Problems
This convenience is ideal for unexpected situations. A family is relocating from Florida to Connecticut, for example, and the house in Florida sold two months before the new home will be move-in ready. Family members can stay with friends or other family members, but there is no extra space to keep belongings and furniture.
Instead of selling everything and start off in Connecticut by buying all that is needed, warehousing services saves time and money for the family. The company also has an experienced moving division that can pack, move, and unpack all the warehoused items to the new home. That saves even more time and money.